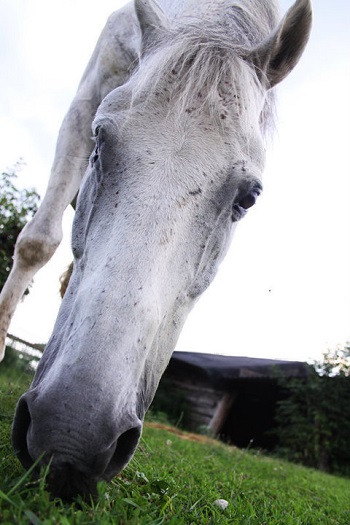 "Beauty" aka Lucky is an Anglo-Arab born in 1989.

He arrived at the Shelter November 2005 in pretty bad shape with a serious injury to his pupil, an infection in his molar which had spread to his jaw and more than 200 pounds underweight.

His owner couldn't or more likely didn't want to treat him and after three months of indecision and great suffering for the horse he decided to sell him to the slaughterhouse.

Since horses destined for human consumption can't be medicated Beauty received no treatment and was therefore in danger of dying.

Some animal rights activists bacame aware of his plight, rescued him from the slaughterhouse and brought him to the Shelter where Beauty was immediately treated. He gained weight, the infected molar was treated with antibiotics and he got better but unfortunately even after ocular surgery he remained blind in his right eye. However, this didn't hinder Beauty who easily learned how to deal with his disability and despite his history Beauty is a gentle horse who loves people and now lives happily in a large paddock with his young friend Beethoven.

Given the outcome of his saga beauty has been renamed Lucky, a name that suits him to a T.